K-12 will be starting a new Social Emotional Learning curriculum this school year called 7 Mindsets. Students will have a lesson each week focusing on the different mindsets. We kicked off the program at back-to-school night by having parents write down a dream they have for their child. These dreams will be displayed in the hallway by the office during the first month of school. For more information on 7 Mindsets, check out the video at the link below.
https://www.youtube.com/watch?v=8sOzgIaWaU0

Girl's golf in Ellendale on Friday, August 20th has been cancelled.

Back to School 2021-2022! These first graders are ready to Rock It!!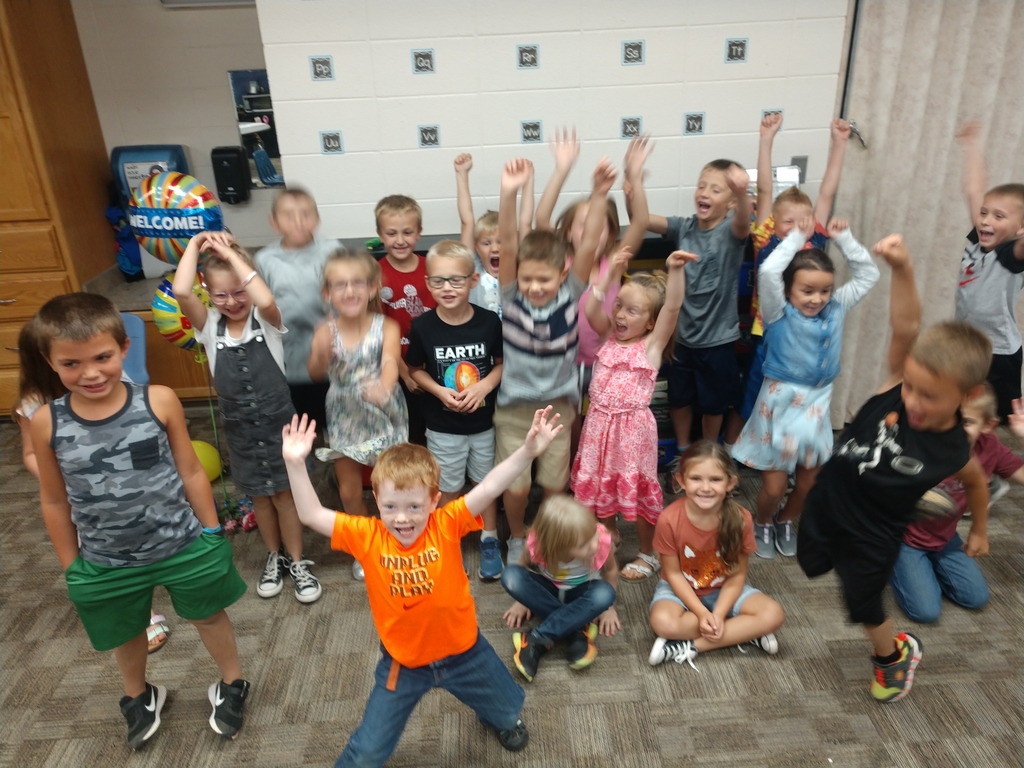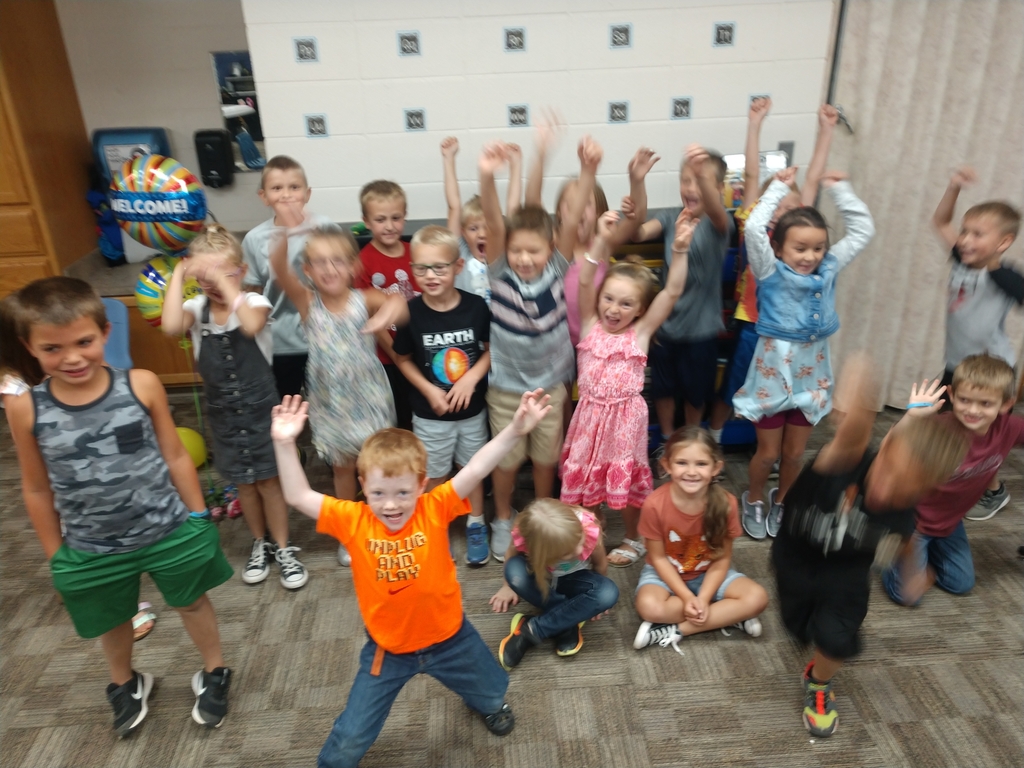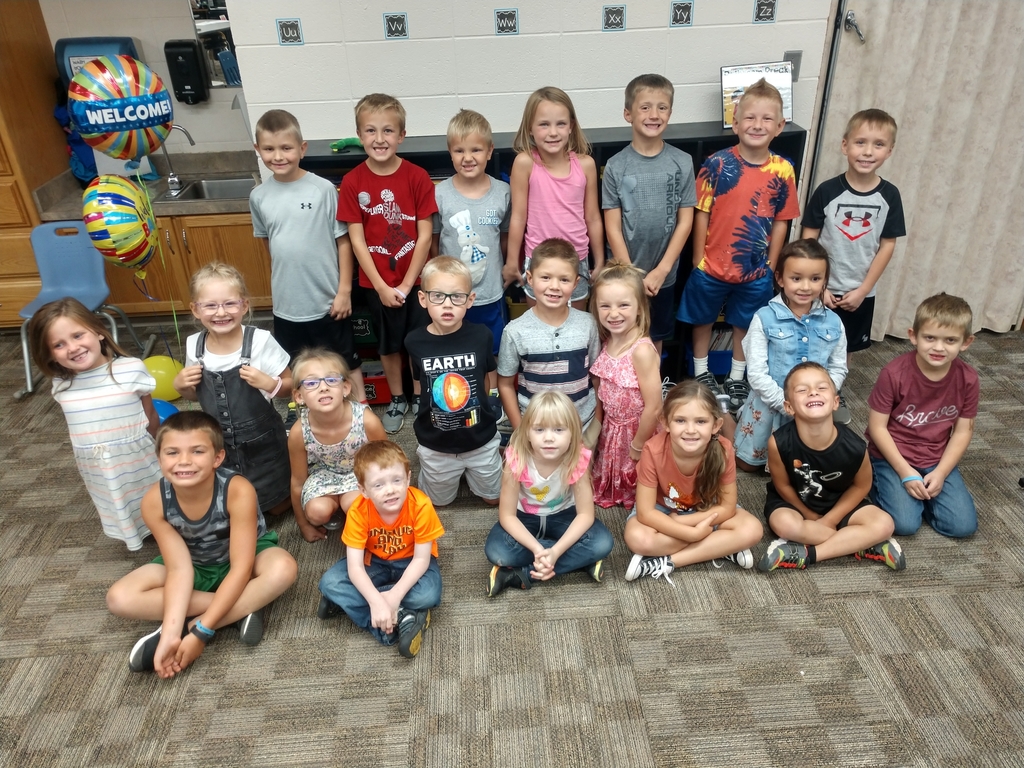 Junior High Volleyball Just a reminder practice will start next week in the Community Center. Monday, August 23- 5:00-6:00 Tuesday, August 24- 4:00-5:00 Wednesday, August 25- 5:00-6:00 Thursday, August 26- 4:00-5:00 Friday, August 27- No Practice A schedule will be handed out the first day of practice!

Don't forget about Back to School Night tomorrow night, Wednesday, August 18th, from 5 - 7 pm for all K12 students and parents.
Miss Flowers will be setting up a table near the 5th and 6th grade rooms for band sign ups during Back to School Night at 5-7pm. Information on where to rent and instrument will be provided. Any questions about music are welcome! Come and say hello.

**REGISTRATION** Don't forget tomorrow, Friday, August 13th is the last day for student registration. If you have not stopped in and picked up your child's class schedule, paid class fees and purchase season tickets for sports, PLEASE come in between the hours of 8:30 am and 3:00 pm.

Team Results from Varsity Girls Golf at Napoleon Today 1st Place - Napoleon/G-S - 389 Individual results from the JV/Varsity Girls Golf at Napoleon Today JV 4th place Aliyah Schwartzenberger 107 5th place Madi Grenz 108 Varsity 2nd Place Sophie Ketterling 90 3rd Place Ashley Schmitt 93 5th Place Emma Ketterling 97 8th Place Jada Schwartzenberger 109 Riley Dewald 124

Junior High and Elementary Football Practice Schedule Thursday, 8/12 - 4:00 pm Friday, 8/13 - 8:00 am Monday, 8/16 - 8:00 am Tuesday, 8/17 - 8:00 am Wednesday, 8/18 - 8:00 am

Napoleon Public School is looking to fill 2 full-time and 1 part-time Aide positions. With changed in enrollment, we need some extra help. If interested, please contact Richard Bjerklie at 754-2244 or
Richard.Bjerklie@napoleon.k12.nd.us
These positions need to be filled ASAP. Please stop in for an Application or you can download it here:
https://5il.co/ukl0
Full-Time: $13.50 an hour; approximately 35 hours per week; PERS; Possible Single Health Insurance, up to 9 sick days and up to 6 paid holidays. Part-Time: Days and pay will be discussed during the interview.

Elementary Girls Basketball will begin on August 19 after school. There will be a meeting/practice.
Contact any volleyball player for a fundraising raffle.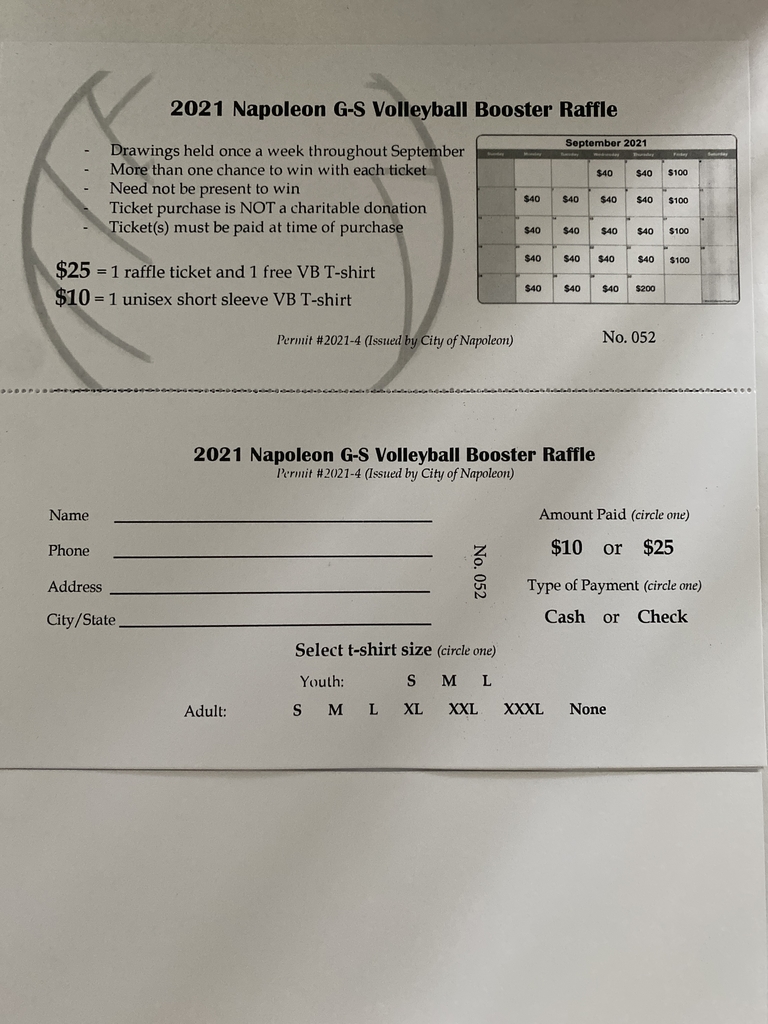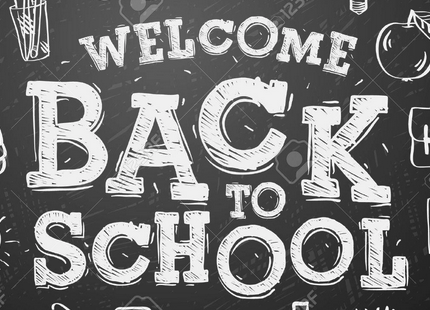 Junior High Volleyball will begin practice on August 23. Practice and game schedules will be finalized soon.

Junior High and Elementary Football will start on August 12. Practice will start at 4:00 pm.

Supply List for grades 7 & 8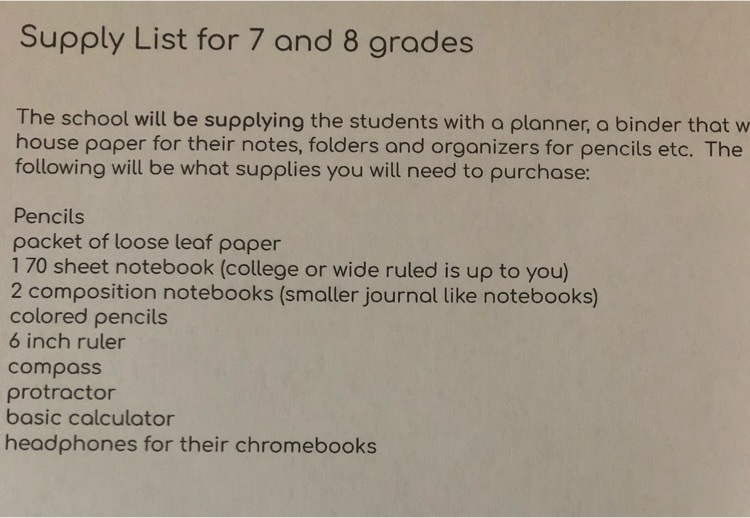 Napoleon Elementary Basketball Camp ** NEW DATES, TIME, AND INFORMATION ** Wednesday, August 11 & Friday, August 13 (2 days) 2 Divisions 1-3 grades (fall of 2021) (basic skills) 4-6 grades (fall of 2021) (basic skills plus one on one defense, team play) -Girls camp will run from 9am to 12noon -Boys camp will run from 1pm to 4pm Registration Fee will be $10. This will be for the purchase of a Camp T shirt. (shirts will be given out when school starts) Registration will be at 8:30 am for the girls on August 11th and 12:30 pm for the boys on August 11th. If you are traveling from a different school, please email
Richard.Bjerklie@napoleon.k12.nd.us
We want to be prepared for the correct number of kids. At registration, you will fill out the form and pay $10.00. Checks payable to: Napoleon Basketball Boosters

***Reminder*** Sports Physicals Napoleon Clinic Monday, July 19th 1 pm - 4 pm Thursday, July 22 1 pm - 4 pm $50.00 in NOT filed to insurance. Napoleon Public School is looking for another assistant cook. If interested, please contact Mr. Bjerklie at
Richard.Bjerklie@napoleon.k12.nd.us
or 754-2244 for further details or fill out this application and drop it off at school.
https://5il.co/ukl0
$13.50 an hour 35 – 40 hours a week PERS 9/2 Sick/Personal Leave 36 Accumulative Sick Leave Group insurance possible 6 Paid Holidays

Back to School Supply List 2021-2022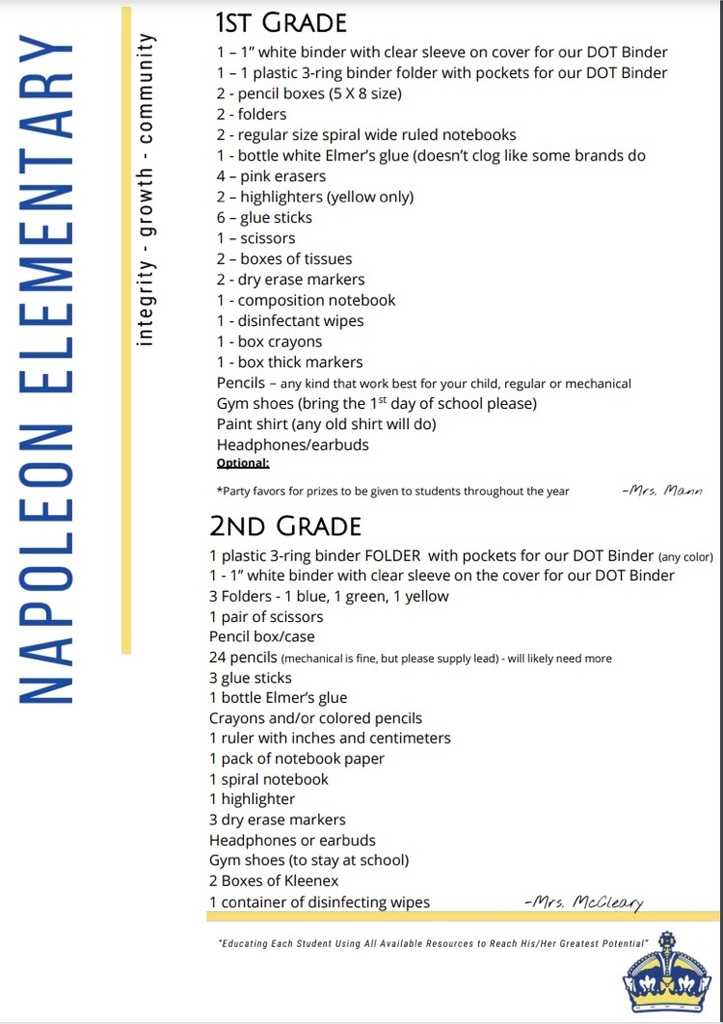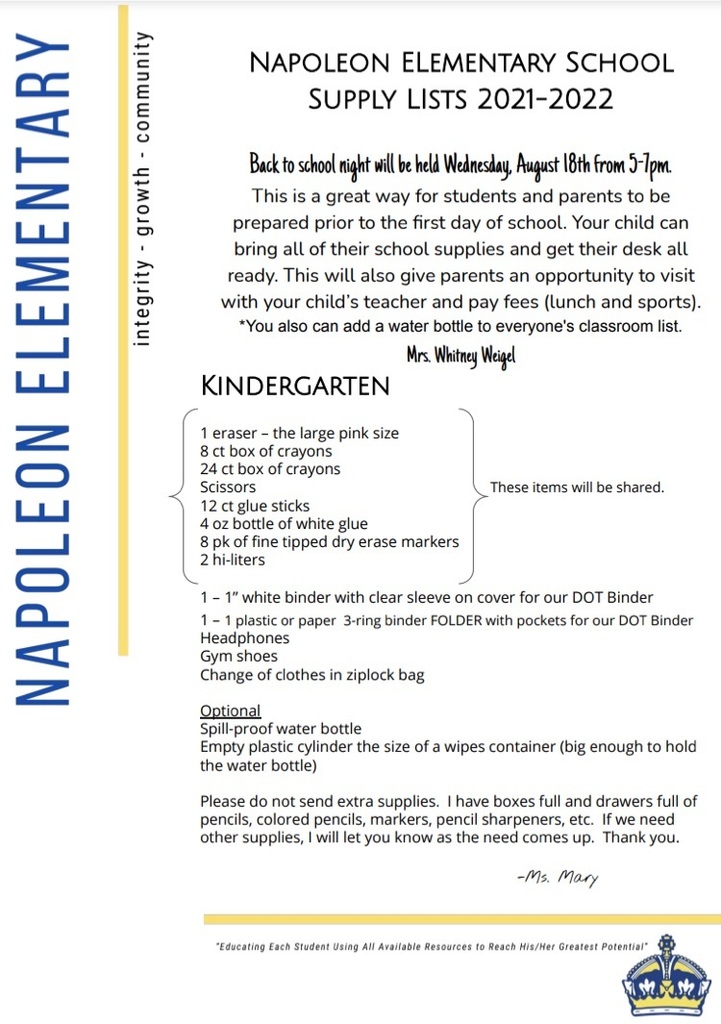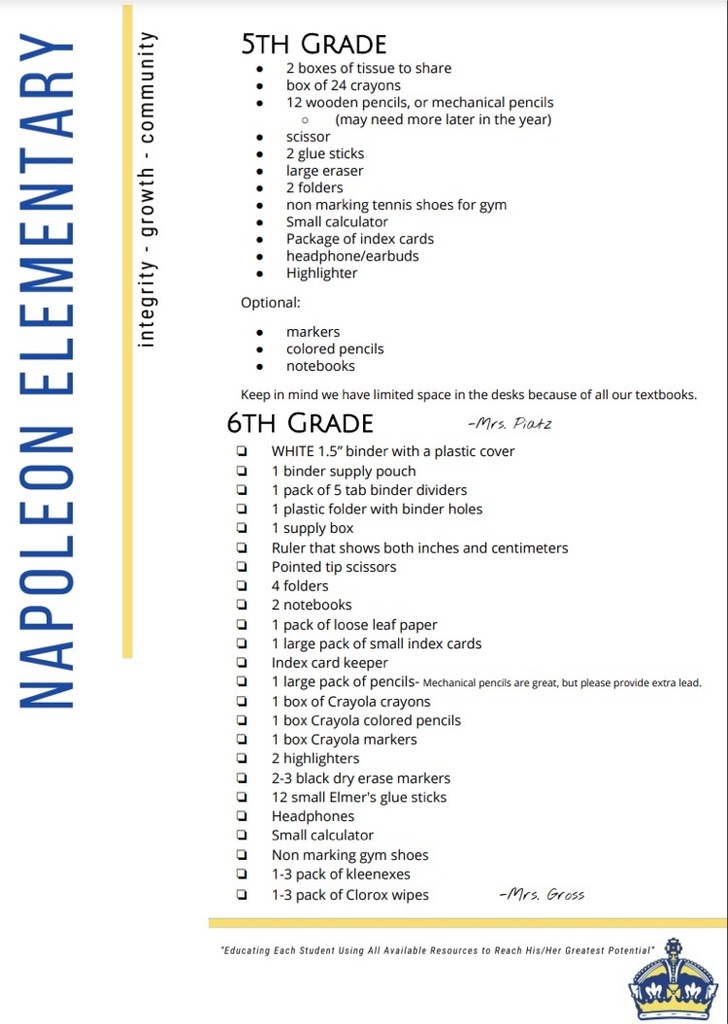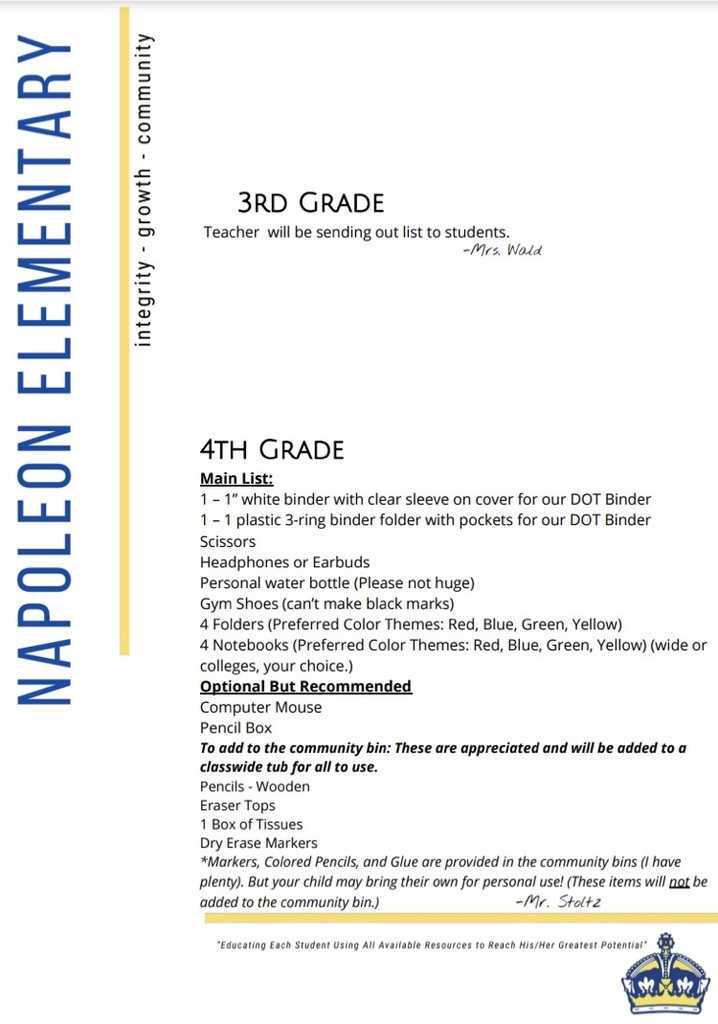 Napoleon Elementary Basketball Camp Registration Wednesday, August 3 & Thursday, August 4 (2days)